Kinabatangan Natives Appeared in US Electrolux's Fridge Advertisement
The natives of Kinabatangan appeared in a US advertisement by Electrolux for a kerosene powered fridge that was used by American explorers Martin and Osa Johnson.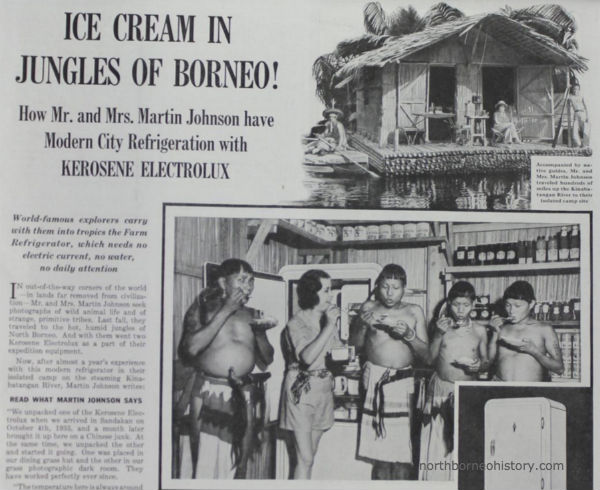 Imagine the year was 1936 and deep in the jungles of North Borneo the natives were having ice cream for the first time. That was made possible by American explorers Martin and Osa Johnson when they filmed the documentary of their expedition.
Martin Elmer Johnson and his wife Osa Helen Johnson were American adventurers and documentary filmmakers who have travelled across the world in the early 1900's. One of their destinations was Sandakan and the floodplains of Kinabatangan in Sabah, North Borneo which they described as "the most beautiful scenery they have ever beheld."
Electrolux probably partially sponsored their expedition by letting them bring the fridge all the way to North Borneo. Seen in the caption above:
World-famous explorers carry with them into tropics the Farm Refrigerator, which needs no electric current, no water, no daily attention.
It was interesting that kerosene was once used to power fridge. A simple illustration of how it works is shown below. If you're interested with the details of the mechanics, they are explained in this website.
The same house on raft shown in the advert can be seen in the film documentary which appeared here. If you haven't watched it, you should do it now.
There's so much captivating history of North Borneo! If you find this interesting don't forget to click Like or Share below!
Leave Your Comments
comments