The year was 1897 and a group of North Borneans or Sabahans from the British North Borneo Constabulary were chosen to travel to London for a special occasion.
That special occasion was the celebration of Queen Victoria's Diamond Jubilee which fell on June 22, 1897. A grand parade which comprised of military and police forces from The British Empire marched through the streets of London.
The photo above dated June 1, 1897 – shows the British North Borneo Constabulary on board a ship, with no indication of whether they have already arrived in London or otherwise. The person seated in the middle was the officer in charge Captain W Raffles Flint while the person standing next to him was Lieutenant A J Wardrop.
Captain W Raffles Flint was the nephew of Sir Stamford Raffles, the founder of Singapore.
The journey by a steamship from North Borneo to London back in those days would have taken around 4-6 weeks.
The British North Borneo Constabulary lead by Officer in Charge, Captain W Raffles Flint.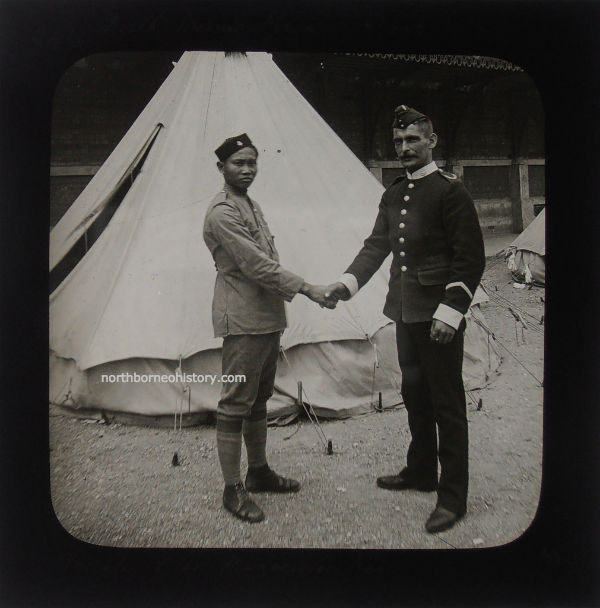 This guy on the left appeared multiple times in these photos – can you identify him?
This photo was published on a report entitled Views of British North Borneo by the British North Borneo Chartered Company. There seems to be a bad case of "cut and paste" work in this photo – if you observe carefully, the person on the top right seems to be Lieutenant A J Wardrop which appeared on the first photo above.
The same group also appeared on 'The Navy and Army Illustrated' in 1902. There's no record of names of those in this police force.
A YouTube video of Queen Victoria's Jubilee Celebration is shown below but the British North Borneo Constabulary wasn't captured in the footage.
Pre-war photos like these are extremely rare and I'm delighted that I was able to link all of these photos together.
Would you do me a favour by sharing this on Facebook?
Leave Your Comments
comments