Watch Footage of Prince Philip's Visit to Borneo in 1959
Prince Philip have visited North Borneo a few times before and this footage which was taken in 1959 showcased his visit to Brunei, Kuching and Sandakan.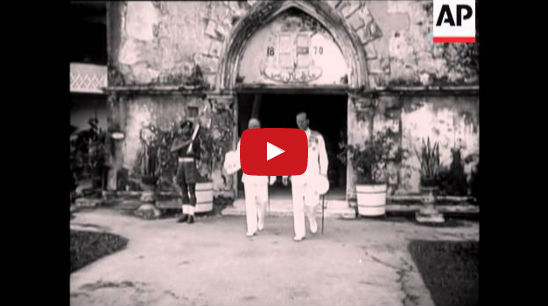 After his tour of India and Pakistan, Prince Philip embarked at Rangoon for visits to Singapore, Sarawak, North Borneo, Hong Kong, the Solomon Islands, the Gilbert and Ellice Islands and Christmas Island.
If you're not sure who Prince Philip is, who is also known as the Duke of Edinburgh, is the husband of Queen Elizabeth II. He is the longest-serving consort of a reigning British monarch and the oldest-ever male member of the British royal family.
This rare footage was part of his visits to the countries mentioned.
A short summary of this footage:
The Royal Yacht "Britannia" took Prince Philip to Borneo, where he visited British colonies and protectorates in the island. A Royal visit to this part of the world is a rare event. Malays, Chinese, Dyaks and everyone left no doubt about the popularity of the occasion. The British protected State of Brunei is rich in oil and the Prince went to have a look at some of the oil-fields in this territory. Previously, at Brunei Airport, the Sultan was present to make His Royal Highness welcome, when he arrived in his Heron aircraft. After greetings, members of the State Council were presented by the British Resident. There was heavy rain in Kuching, the capital. But crowds were out to see the Prince. The Astana (or Palace) is now the residence of the Governor, Sir Anthony Abell. Then, the Prince inspected a Guard of Honour on the wharf, where James Brooke landed nearly 120 years ago. He became the first English rajah of Sarawak, now a Crown Colony. Sandakan now, a town in British North Borneo, and a warm welcome by the Chinese people with dragons.
Let's jump to the footage below:
If you enjoyed this, don't forget to Like or Share this on Facebook!
Leave Your Comments
comments