The History of North Borneo Sabah First State Flag in 1963
This was North Borneo (Sabah)'s State flag which was officially used in 1963. Find out more about the State's flag here.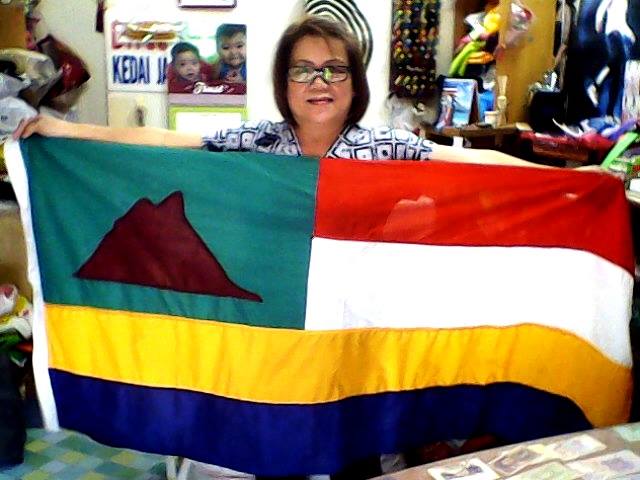 This was the design of the State flag of North Borneo used from 31st August 1963 up until 31st December 1981. The photo above shows the reproduction of the 1963 State flag, a project initiated by Mr. Azlan Mohd Jaffar of Tg Aru, KK in conjunction with Sabah's 52 years of independence.
The design was chosen from over 500 entries of a flag designing competition which was held before the independence of Sabah in 1963.
The winner or the designer of this flag was Mr. Idris Echin from Jesselton. He won $1,000 for designing the winning flag.
So what do the colours represent?
The top left quarter of the flag is coloured green for the State's young land and forests and includes a symbol of the 13,697 ft. (actual height is 13,435 ft.) Mount Kinabalu, which is in brown in colour and stands for the people's unity.
The remainder of the flag is divided into the horizontal stripes of equal width in red, white, gold and blue.
The red stripe stands for courage, and the willingness to sacrifice for the country, white stands for purity, gold for the State's riches and blue for peace and happiness.
After the flag was used for more than 18 years, it was replaced with a simpler version. However, it was only used for a short period before the current State flag is used.
[images courtesy Mr. Azlan Mohd Jaffar]
Leave Your Comments
comments