Watch this rare footage of Jesselton taken in 1948 by Keith Wookey who was the last Resident of Sandakan.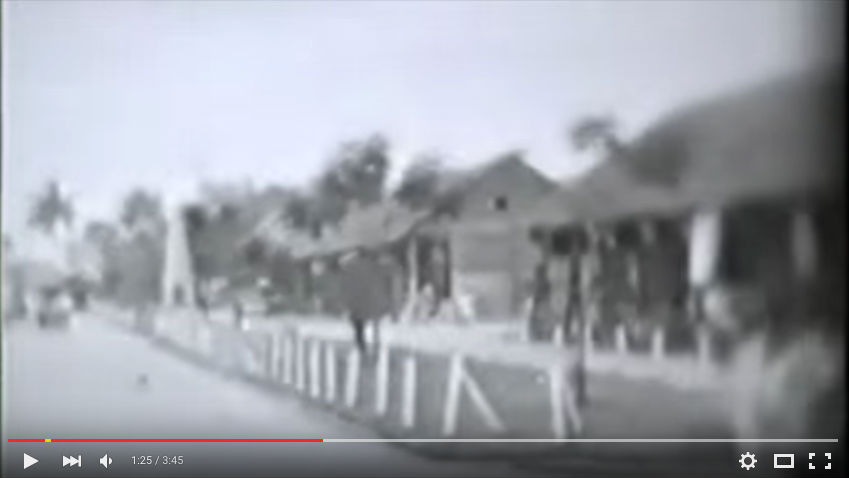 After starting North Borneo Historical Society (NBHS) since a few years back, I'm actually quite pleased that many people in Sabah are beginning to take great interests with the state's long and interesting history. There are now many historical related Facebook groups and pages related to Sabah.
Robin Wookey, who is the son of Keith Wookey, has been working closely with NBHS and contributed many wonderful historical photos of Sabah and also extremely rare footage such as this one. Today, Robin shared a footage taken in 1948 by his father:
Here we have Eleanor Wookey, newly wed to Keith Wookey driving down Jalan Istana to the Tanjung Aru, also a short piece at our house in Tenom. Keith Wookey was District Officer there. Richard Lind was known to work under him here in this office.
If you find this footage interesting, please spend some time to read a brief history of Wookey's times in Sabah below and don't forget to share this on Facebook!
Wookey's Early Career
Keith Wookey was raised in Somerset, England, and educated at Lewisham, Bristol. After studying at Oxford he soon started to work in a bank where he also indulged in his passion for Motor Bike Racing on his Velocette at the TT Races, Isle of Man.
This is a popular yearly event for motor racing enthusiasts. In 1936 Keith announced to his family he was going to Borneo the next day. Everybody in the family was stunned. "Why would you want to go there for?"
Keith joined the small cadre of British North Borneo Chartered Company administrators being one of the last links between the Chartered Company administration of North Borneo in an era redolent of early mercantile activity in the East Indies, and the creation of modern Malaysia.
His twenty-seven year career began in the romantically archaic and paternalistic administration of the Chartered Company of the prewar years, when the price of rubber was the main consideration.
The Government decided that Keith Wookey should move out station after 2 weeks. He, at first was put into the Secretariat, but most of his time was spent under the general supervision of Geoffrey Gray, then the Under Secretary). Also Keith was allocated in short secondments to the various branches of Government and in beginning the study of the Laws of the State and of the Malay language.
Wookey in Sabah
Shortly he was posted as Assistant District officer at Mempakul, near Beaufort. After a year there he was posted to Kota Belud where he spent the next two to three years. It was at this time he met his first wife Tampusis a priestess from Renau. Soon after they had a traditional wedding and had two little baby girls. He would always reminess the fondness of this part of his life, of going into the jungle, of riding his horse under the majestic and grand Mount Kinabalu, living for many weeks at a time with the locals in the various Kampongs. It was at this time that he learnt to speak Kadazan.
Soon after Keith, Tampusis, and his two daughters Susan & Agnes were moved to Lahad Datu where Keith was again appointed Assistant District Officer.
Japanese Invasion and the War
This idyllic ethos under the benevolent administration of the British North Borneo Chartered Company was rudely ended in January 1942 when the Japanese landed at Jesselton . The Japanese being intent of taking over the whole territory. The company ordered its officials to stay at their posts, reasoning that they might help to provide some measure of protection for the local populace by calming fears and giving advice in a situation of general turmoil.
There was no possibility of resisting the invaders since there were no troops and the small North Borneo Constabulary was equipped only for internal security and anti piracy duties. Family life was shattered by the Japanese onslaught as Keith Wookey was taken away by soldiers & severely beaten. Shipped firstly to Sandakan at Berhala Island with Harry Keith and other fellow officers, he then was soon moved again to Kuching whereby he spent the next three years at Lintang Barracks. Tampusis after seeing Keith severely beaten and after a long period married again for she thought Keith would not be alive.
Post War North Borneo
After the Japanese surrender Wookey returned to North Borneo following a period of recuperation in Australia. He soon returned to Sandakan where the first major task was rebuilding after the devastation caused by Japanese air attacks and, in their turn, by the Allied ones. The British North Borneo Company felt quite unable to shoulder the burden of this, or of engineering a return to the prewar status quo and, in 1946, surrendered its charter.
The territory became the Crown Colony of North Borneo. The postwar rebuilding process which involved the establishment, firstly, of a Crown Colony and which would lead to the emergence of Sabah as a state within the Malaysian federation in 1963.
Wookey's Career in Sandakan
Wookey became District Officer in Sandakan. In 1947 while on leave to Australia he met Eleanor Farrell and soon married. He then was posted as District Officer in Tenom for two years. He was a very popular Officer as he would mix with the locals and of course being able to speak the language was a distinct advantage over the newly appointed post-war officers.
In 1950, Keith Wookey and wife moved to Jesselton where he became attached to the Secretariat. In May the first son, Michael was born. After serving there for five years, appointed a permanent member of the Executive Legislature and a couple of short stints as Acting Chief Secretary Keith Wookey was promoted as Resident, Sandakan 1956. It was at this time that the family's second son, Robin was born.
Life in Sandakan was worlds away from the strings of Government of Jesselton bureaucracy. Keith had always wanted to come back to the old capital where he first started as a cadet in 1936. He also liked the independence from bureaucracy that Sandakan provided. In those days there was no road between the Jesselton & Sandakan.
Sandakan being the biggest and most prosperous town created an atmosphere of separateness where Keith could act with more independence. The authority and political power of the Resident was all the more potent here where he was affectionally known as "the King" or Taipan. Knowing the people and the town, speaking Malay, Kadazan and Chinese made Keith a very popular man.
Sandakan also being known as "little Hong Kong" experienced a period of its history where many a dream was forged about the political future of the state of Sabah. Sandakan was in the middle of a timber boom and many were gaining unprecedented wealth as a result of the opening up of the interior to sustainable forest harvesting. Many political fortunes were forged here but it was never certain who would lead the way to Sabah independence.
One highlight of this period was the visit of Prince Phillip and Britannia, the Queens ship. Sandakan put on a marvellous and spectacular welcome for the Prince.
Formation of Malaysia
It was also at this time that London was encouraging the move to devolution of the colonies. Talks of self-government and independence were rife and many a political discussion was had about what future was to occur for North Borneo. After deliberation by the Cobold Commission which was appointed by the United Nations it was decided that North Borneo's interests would be best served by Federating with Malaya.
Tunku Abdul Rahman visited Sandakan in 1962 and the move to Federation was swift. In 1963 North Borneo became Sabah and an independent state for a short while and then joined Malaya to become Malaysia. Keith Wookey died suddenly and unexpectedly soon after in the United Kingdom in November 1963.
He was survived by his wife Eleanor, and by their two sons Michael & Robin. They lived in the UK for four years and then moved to Australia where they now live.
***************
The write up was provided by Robin, who now lives in Australia but still actively involved with Sabah's history.
Please do me a favour by sharing this on Facebook!
Leave Your Comments
comments