Three Came Home is based on a a true story of Agnes Newton Keith's imprisonment in several Japanese prisoner-of-war camps from 1941 to the end of WWII. Separated from her husband and with a young son to care for she has many difficulties to face.
Three Came Home was released in 1950 and it was based on the autobiographical book by Agnes Newton Keith, Three Came Home stars Claudette Colbert as Mrs. Keith. Trapped in North Borneo during the Japanese invasion, Mrs. Keith and her British husband (Patric Knowles) are penned up in a prison camp along with several other subjects.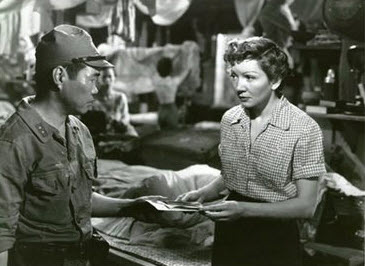 Despite the humanitarian views of camp commander Col. Suga (Sessue Hayakawa), Mrs. Keith is subject to torture, starvation, and humiliation at the hands of the guards, with Suga helpless to intervene lest he incur the wrath of his own superiors.
Three Came Home contains several unforgettable moments, including a comic interlude between the male and female prisoners that ends abruptly with a barrage of Japanese bullets, and the heartwrenching scene wherein Suga learns that his family has been killed in a bombing raid. Since lapsing into the public domain in 1977, Three Came Home has popped up innumerable times on cable television.
For history enthusiasts, this video was probably the only high quality video of North Borneo shot in the late 40's. There were scenes of Sandakan town just a few minutes into the movie. The house where Agnes Keith used to live has been restored and now under the care of Sabah State Museum.
Enjoy the full-length (1 hour 44 minutes) movie below!
Image via Sabah Tourism
Leave Your Comments
comments